In questo sito utilizziamo cookie o tecnologie simili per finalità tecniche e, con il tuo consenso, cookie di terze parti anche per altre finalità.
Cliccando su 'Accetta' acconsenti alla memorizzazione dei cookie sul tuo dispositivo.
Cliccando su 'Rifiuta' autorizzi esclusivamente i cookies con finalità tecniche, tuttavia in questo caso alcune funzionalità del sito potrebbero non essere disponibili.


Conditions of stay
Hotel Cristallo Andalo, Brenta Dolomites in Trentino
---
Conditions of stay


To reserve the room you can contact us by e-mail or by phone. Your name, surname, residential address, telephone number and e-mail address will be requested and a confirmation e-mail will be sent to you.
The confirmation e-mail summarizes all the booking data that are considered accepted at the time of payment of the deposit; only telephone confirmations are not accepted as the booking data cannot be documented. Requests subsequent to booking are considered valid if received via email or chat and accepted with feedback from us.
With the "standard policy" the reservation is considered definitively confirmed only upon payment of a confirmation deposit proportionate to the stay. In case of cancellation of the reservation up to 21 days from arrival we will refund the deposit in full; from 20 days to no show the penalty will be the total stay price. In case of early departure or late arrival no refund.
According to current regulations, a delayed arrival, cancellation or interruption of the stay, trigger penalties for you. load. To avoid this unpleasant inconvenience, we recommend that you take out insurance in the event of a trip cancellation. You can contact your trusted company or other specialized travel companies, we recommend the following: https://www.assiglobal.org/storno
Payment for the stay and extras takes place at the end of the stay and can be made in cash, checks or by credit / debit card. Credit cards accepted: Visa, Mastercard, American Express, Maestro.
Prices and discounts are indicative, in certain periods they may be subject to reductions or increases. For this reason, the booking confirmation e-mail we send is valid, showing the price of the stay as per the proposed estimate.
The room is delivered after 14:30 on the day of arrival and must be vacated by 10:00 on the day of departure.
At the time of booking we cannot confirm the room number, floor, exact size and location.
Half board includes accommodation, breakfast and dinner, drinks and additional services excluded. It is possible to have lunch at the hotel restaurant and, in this case, the meal will be charged for the lunch or dinner booked but not taken are still counted.
All services not indicated in the "included in the price" are to be considered extra.
For anything not specified above, reference is made to the "Hotel Uses" issued by the Trento Chamber of Commerce.
General conditions:

Prices do not include the tourist tax of € 2 from 14 years of age
Prices in half board per room, drinks not included
Full board with menu
For stays of less than 5 nights we will send you a quote on request
Meals and services included but not used are not refunded
Prices are indicative, only the estimates prepared by our staff are valid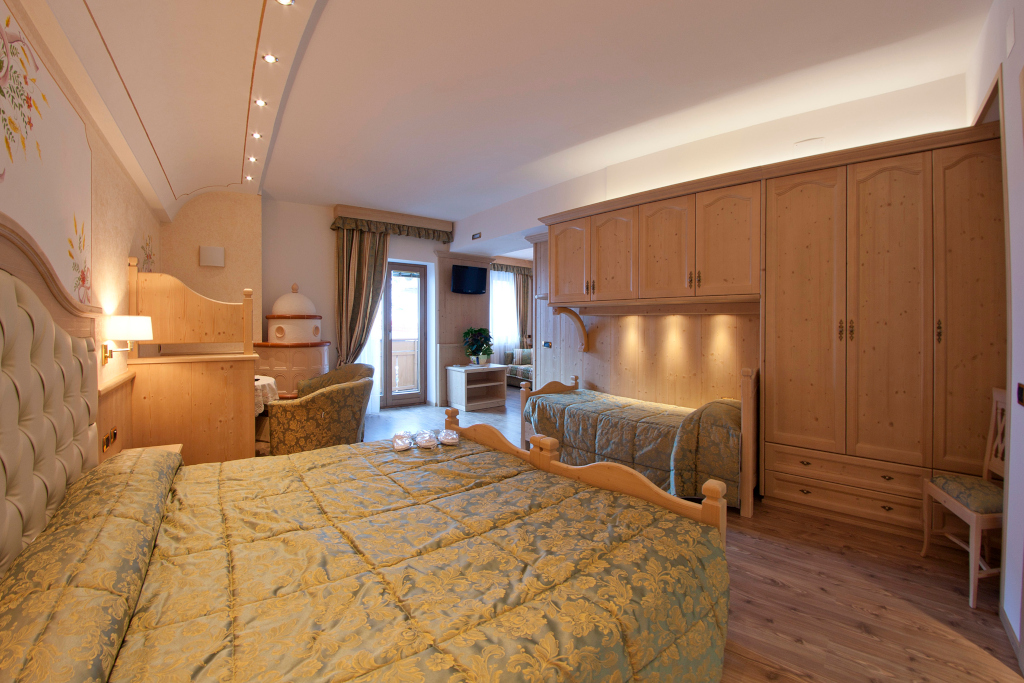 N.B. Prices and discounts may vary. The rooms proposed in the estimates are never considered optioned or confirmed until the confirmation deposit has been paid.
Some services are paid,
Morning babysitting service;
Trekking strollers rental (€ 10.00 per day);
Bathrobes, slippers and hair caps, mandatory to access the pool;
Treatments and massages;
Laundry, drying and ironing service;
Full board: only during the stay it is possible to book lunch and therefore full board from our menu. Lunch must be booked by the previous evening and is available from 12:30 to 13:30
Agreement with the Italian Ski School "Nuova Andalo" with a dedicated ski instructor;
We inform our guests that the provision and / or availability of hotel services may be subject to changes or be interrupted. To obtain an updated list of available services, please consult the offer.